Visions du Réel 2019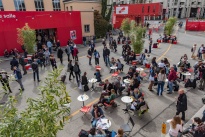 Festival centre (© Pierre Descombes)
Under the motto "50 years of freedom, 50 years of openness, 50 years of film", the Festival Visions du Réel celebrates its 50th anniversary in 2019. From 5.-13. April, 169 films from 58 countries are scheduled. 15 films are celebrating their premiere in the International Competition - Feature Film. The Interreligious Jury chooses its winner from them.
For its anniversary, the festival organizes a retrospective in the section "Cinquante" curated by the festival's four former artistic directors: Moritz and Erika de Hadeln, Jean Perret and Luciano Barisone. With a retrospective of 14 of his films and the title Maître du Réel, the director Werner Herzog is honored.
The festival will be opened with the Finnish documentary "Gods of Molenbeek", which received the award of the Church Media Foundation at the Tampere Film Festival.
Link: Festival-Homepage
More about the festival
The Church Media Foundation Award at the Tampere Film Festival 2019 was given to the director Reetta Huhtanen for her feature-length documentary film debut "Gods of Molenbeek" (Aatos ja Aminen, Finland 2019).