"Gods of Molenbeek" wins Church Media Foundation Award in Tampere 2019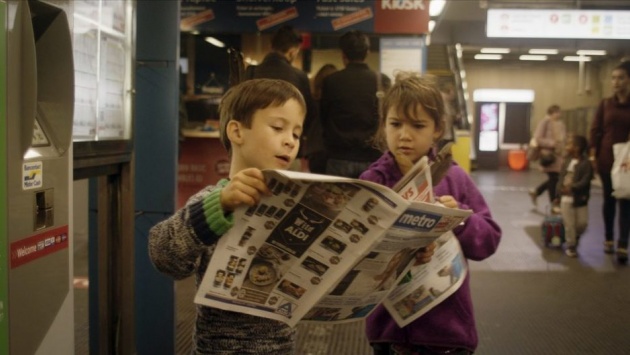 The Church Media Foundation Award at the 49th Tampere Film Festival (March 6-10, 2019) was given to the director Reetta Huhtanen for her feature-length documentary film debut "Gods of Molenbeek" (Aatos ja Aminen, Finland 2019).
"Gods of Molenbeek" follows two six-years old boys, Aatos and Amine who live in the Molenbeek district of Brussels which is seen in media as jihadi capital. Aatos wants a god of his own as Amine already has Allah but the question is complicated by his friend Flo's belief that people who believe in God have gone crazy. The children's play is interrupted as terrorist bombs explode in a metro station nearby.
The jury for the award was Mr. Seppo Simola. He is emeritus Editor-in-Chief and Director of Communication of the Helsinki Parish Union. He has studied theology and communication in the University of Helsinki, and was board member and Vice Chair of the Church Media Foundation 2010-2018. His arguments about the film:
The Church Media Foundation is supporting and awarding films and programmes which motivate viewers to reflect deep values, peace and love between people and the questions dealing with ethics and religion.
The European history is telling dark stories about times when mistrust between people, discrimination of those who have different thoughts or religion and agitating prejudice are dominating. These questions are again frighteningly actual in Europe today.
The Church Media Foundation is awarding in the national competition at the Tampere Film Festival 2019 a film, which is dealing in a good-natured, even funny but at the same time profound way with the friendship and connection between people who are thinking differently and have different faiths. The film literally consists of a lot of ethical and religious thinking. It raises questions which are touching and interesting also for children. The film takes us in a tragic way directly to the very centre of the pain of today's Europe.
The prize is endowed with 1.500 € and is given to the director of the best film in the National Competition. It was awarded now for the third time at the Tampere Film Festival.
The Church Media Foundation has been established 2005 by The Evangelical Lutheran Church of Finland and it is supporting filmmakers to do programs dealing with religion and ethical issues. It has also two film prizes: Since 2009 at the Oulu Children and Youth Film Festival, and at the Tampere Film Festival since 2017.