Films Across Borders
Report of the Golden Apricot Yerevan Film Festival 2013. By Douglas Fahleson
Ecumenical Jury Yerevan 2013, from left: Bishop Gevork Saroyan, Douglas P. Fahleson, Heinz-Martin Krauss
The city of Yerevan has been in existence since the 8th century B.C.  It officially became the capital of Armenia in 1918 and currently has a population of approximately 1.2 million residents.  Nearly one of every three Armenians who reside in their country lives in this epicenter of art, commerce, and government that is Yerevan. 
Armenia is a landlocked country, rich in culture and steeped in history.  Archeologists have found evidence of civilization in Armenia dating to 4,000 B.C., including the world's earliest known winery and leather clothing.
The Armenian Apostolic Church is the oldest national church in the world, dating to 301 A.D.  More than 90 per cent of Armenians are members of the Armenian Church and it is a significant ingredient to the glue that holds their global diaspora together.  
I mention this significant history because it has a great influence on and contributes directly to the overall experience of the Golden Apricot International Film Festival in Yerevan.  This year marked the 10th anniversary of this prestigious festival and for seven days and nights, film aficionados from near and far took part in this celebration of cinema and Armenian culture.  The festival's overall theme is the Crossroads of Cultures and Civilizations and it is "anchored in the idea of a global human landscape in the process of transformation and the challenges such transformations pose to human beings."
From the opening of the festival, which was celebrated with a traditional blessing of the apricots (the festival's namesake fruit for which Armenia is famous) to the closing ceremony at the National Theatre of Opera and Ballet a week later, this was a truly special festival experience. 
 In between these events, including the films themselves, were additional cultural offerings such as a tribute to composer Aram Khachaturian, an exhibition at the Museum of Contemporary Arts, the special "Let There Be Light" Award ceremony for the Armenian director Artavazd Peleshyan at the Gevorkian Seminary of Holy Etchmiadzin, and a special reception at the Charles Aznavour Museum.
Our Ecumenical jury consisted of three persons -- Bishop Gevorg Saroyan from the Armenian Apostolic Church, Rev. Heinz-Martin Krauss from Germany representing INTERFILM (Protestant), and myself from Ireland representing SIGNIS (Catholic).  Our task was to view, analyze, and discuss our assigned slate of eleven films representing the "Films Across Borders" Regional Competition Section. The criteria with which we judged our work inspired us to look for films of high artistic quality, that indicate Christian responsibility and human progress, convey a specific message of the Gospel, have a universal impact, and are inventive in expression.     
The festival showcases films from the surrounding region.  More than 200 films were screened at various venues throughout Yerevan.  Our eleven films in particular hailed from Georgia, Armenia, Iran, Turkey, Ukraine, Moldova, and Serbia.   
Oftentimes some sort of theme resonates from a festival's select group of films and is later revealed upon further reflection.  This year proved to be no different.  The common theme that seemed to hold these films together was one of displacement (emotional or physical) and change, whether elective or not.  This seemed also to align well with the festival's overall anchor regarding the human challenge of transformation.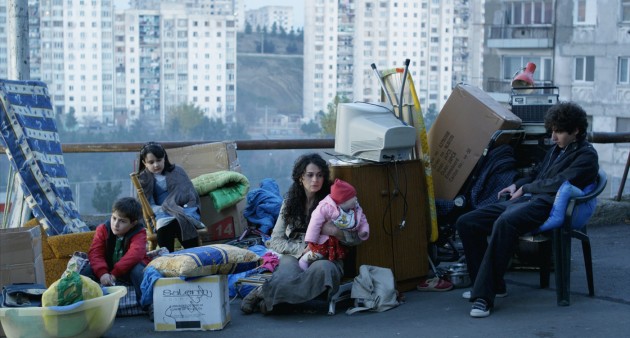 Prize of the Ecumenical Jury: Keep Smiling

This theme manifested itself in our first film, Watchtower by Elim Esmer (France/Germany/Turkey 2012), where a man takes a job in an isolated post in the middle of a forest in Anatolia to escape from his memory of his family and crosses paths with a young woman running away from the big city for far different reasons.  Physical (and emotional) change continued with Parviz by Majid Barzegar (Iran 2012), the story of a 50-year old man who experiences familial displacement, which leads to tragic consequences.  Keep Smiling by Rusudan Chkonia (Georgia/France 2012) sought displacement as it centered on a beauty contest for mostly poor Georgian mothers and offered the winner a free apartment and significant prize money. I'm Going to Change My Name by Maria Sahakyan (Armenia/Russia/Denmark 2013) presented an evocative poetic and visual study centering on a 14-year old girl's adolescent emotions, particularly those of love and desire.  House With a Turret  by Eva Neymann (Ukraine 2011) follows an 8-year old boy as he journeys alone towards his grandfather in the final winter of World War II following the death of his mother. Panihida by Ana-Felicia Scuteinicu (Germany/Moldova 2012) is a funeral narrative of joy and grief as a small village mourns the death of one of their female elders.  In The Last Winter  by Salem Salavati (Iran 2013)  a small rural village experiences the changes of life as the younger families leave to look for more lucrative work elsewhere.  The Voice of Silence by Vigen Chaldranian (Armenia 2013) showcases an Armenian film director who returns from Hollywood to discover his muse in the form of a homeless girl living near a garbage dump.  Set in Munich, Kiev, and Belgrade, Eastalgia by Daria Onyshchenko (Germany/Ukraine/Serbia 2012) intermingles three love stories and highlights the economic emigration issue prominent in much of the world today.  Modern Georgia is in contrast in A Fold in My Blanket by Zaza Rusadze (Georgia 2013) when a young man befriends another man and ends up trying to defend this new friend after he's accused of a crime.  And finally, Lifelong by Asli Özge  (Turkey 2012) shows a marriage on the brink of disintegration between an architect husband and his artist wife, serving as a template for their college-age daughter and her new boyfriend. 
After a final deliberation we awarded our Ecumenical Jury Award to Keep Smiling for its artful and profound critique of popular reality television programming.  Director Rusudan Chkonia of Georgia highlighted the humiliation and loss of human dignity that often casts a dark shadow upon the participants in these programs.  She takes the audience on a journey through a wide range of human emotions and allows us to engage with these ten mothers as they compete for the top prize in this beauty contest for Georgian mothers.  Envy and lust join shame and greed while illuminating the tragic consequences sometimes paid for those pursuing artificial human validation and for those who take advantage of the disadvantaged for purposes of entertainment.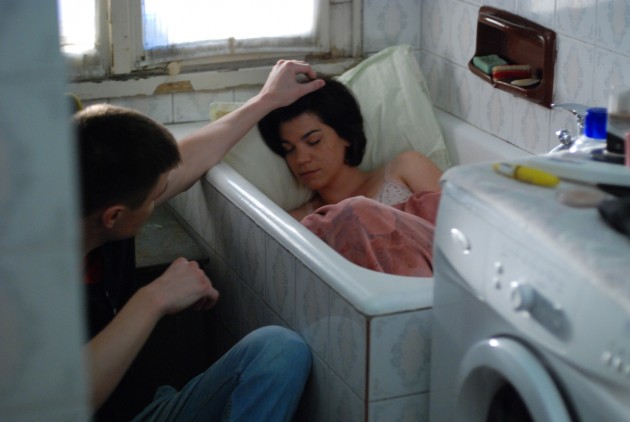 Commendation of the Ecumenical Jury: Eastalgia

Our jury also elected to give a Commendation to Eastalgia for its excellent and dramatic depiction of the emotional devastation left in the wake caused by economic migration of three torn, yet interconnected, families living in the modern Ukraine, Serbia, and Germany.  Director Daria Onyshchenko of Ukraine crafted a poignant artistic message for a contemporary Europe and beyond.
The Armenians in Yerevan, filled with an abundance of warmth and hospitality, certainly provided a great showcase of support for cinema and culture in this 10th Golden Apricot International Film Festival.  I have brought home with me one of the apricots blessed on the opening day of the festival and plan to plant its proverbial seed in order to grow, nurture, and share this special spirit that I discovered in the Armenian culture.