Cannes 2023: Feelgood Movies
The artificial and the culinary in the competition programme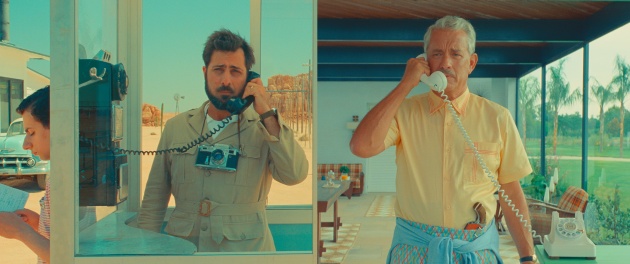 Asteroid City (© 2022 Pop. 87 Productions LLC)
American
No other director brought as many stars to the Red Carpet as Wes Anderson. Tom Hanks, Scarlett Johanssson, Adrien Brody, Jeffrey Wright, Tilda Swinton, Liev Schreiber, Bryan Cranston, Steve Carell and Edward Norton. "Casting: 5 Étoiles" (5 stars) headlined the local paper 'Nice Matin' on "Asteroid City," the new film by Wes Anderson. When the cult director calls, everyone comes. An all-star ensemble led by Jason Schwartzman, traveling with four children to visit his father-in-law (Tom Hanks) after the death of his wife. When the car breaks down, they're stuck in Asteroid City, population 87, a lost outpost in the Nevada desert. A place where atomic bombs are tested and teenage inventors vie for the "Spacegazer of the Year" trophy. The year is 1955.
Of course, the desert is fake, recreated in a studio in Chinchón near Madrid. As you'd expect with Wes Anderson, the set revels in whimsical, meticulously arranged details. A fantasy America in the optimistic atomic age of the 1950s. Jason Schwartzman plays a war photographer, Scarlett Johansson a Hollywood star. As neighbours in the local motel, they are getting personally closer to each other. But there is hardly any story to speak of, every scene, every dialogue is fractured with irony.
To underline artificiality to the edge, "Asteroid City" is presented as a theatrical play broadcast on live, black-and-white television. Bryan Cranston as the presenter introduces Edward Norton as the author, whose play is directed by Adrien Brody, who looks like a combination of director Elia Kazan and the theatrical character Stanley Kowalski. The numbers of acts and scenes are announced graphically before the action jumps back to the candy-colored Nevada desert. No wonder it's easy to lose track of the plot with so many storylines. "Asteroid City" is a movie you have to see twice to catch all the details and gags. In the face of such excess of decor, the characters run the risk of being drowned out.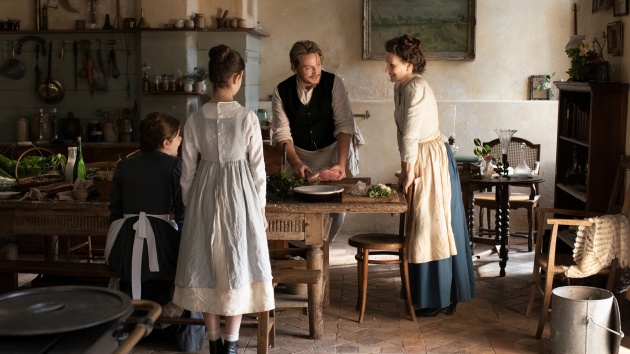 La passion de Dodin Bouffant (© Carole Bethuel / 2023 Curiosa Films - Gaumant - France 2 Cinema)
French
In addition to many well-known names, there were also directors who were represented in the competition for the first time, such as the Vietnamese French cineaste Trần Anh Hùng, whose homage to French cuisine was received in Cannes with great enthusiasm. The original title "La passion de Dodin Bouffant" sounds rather complicated, while the international title "The Pot au Feu" immediately hints at what it's about. For 20 years, the wealthy gourmet Dodin Bouffant (Benoît Magimel) has been living under one roof with his cook Eugénie (Juliette Binoche). Over time, their shared passion for good cooking turns into an amorous attraction. Or as Benoît Magimel gallantly puts it, "May I knock on your door tonight?" To which Juliette Binoche laconically replies. "Bien sûr, but I don't know if it's going to be open." The year is 1885 and one knows how to stay true to form.
Dodin gathers a small circle of gourmet friends around his table, they eat exquisite dishes garnished with witty dialogues about the founding father of French cuisine Antonin Carême. "Kings come and go, but Carême remains the Roi des cusiniers" (the King of Chefs).
Captivating is the way director Trần Anh Hùng stages the preparation of vegetables, meat and fish as well as the process of cooking. The scenes flow organically into each other as the ingredients come together to create an extraordinary menu. Gastronomy as a higher level of civilization, appropriately appreciated and celebrated. Norbert Elias would have enjoyed this film.
Benoît Magimel, who won the acting prize in Cannes in 2001 together with Isabelle Huppert for Michael Haneke's "The Piano Player", appears in brilliant form as Dodin after some personal crises. Imposing by his physical presence as well as by his esprit. No wonder he is called the "Napoleon of the kitchen".
Juliette Binoche is superb as a passionate cook who makes no fuss about her art and sees herself as a craftswoman in the kitchen. She stubbornly fends off Dodin's advances, to which she only gives in "in the autumn of her life." A film not only for gourmets which makes you want to start cooking and eating. The absolute counterpart to Jessica Hausner's ascetic "Club Zero.