A Breeze of Young Air
Report on Molodist 2018, the Kyiv International Film Festival. By Jacques Vercueil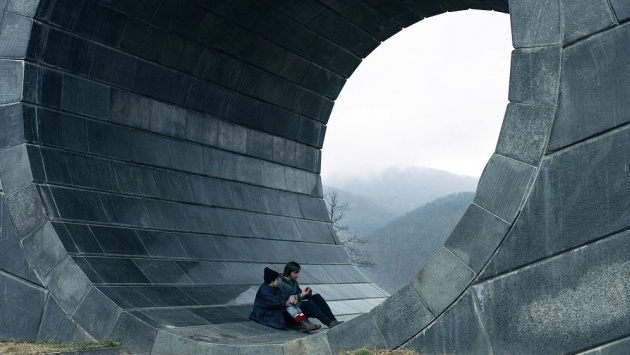 Teret (The Load, Ognjen Glavonić)

The Festival in Kyiv (Ukraine) is more than 40 years old, and it was a pleasure to observe in this beautiful capital that the majority of inhabitants seem younger than that! Devoted to 'the Youth'  (Molodist), this first films competition had its inaugural venue aboard a ship on the noble Dniepr, where attendants could watch the diploma achievements of students of the Cinema school then recently established. This initiative of the Headmaster, Andrei Kalpakchi, who still runs the show at KIFF, flourished and became an international event where Peru, Korea or Switzerland shoulder Ukraine, Serbia or Poland. In a superb, downtown old-time-theatre, with gigantic stairs and sky-high ceilings, the Blue Salon, the Red Salon and the Cinematheque host the various selections. This is Ukraine: the dramatic conditions in the East of the country, echoed in Cannes by the film Donbass of ukrainian director Loznitsev, could not be forgotten in Kyiv, and a call for the freedom of Oleg Sentsov, Ukrainian helmer detained in Russia, was a backdrop for the festival.
The Ecumenical Jury (from Ukraine, Germany and France) were in charge of awarding prizes in the three international competitions. Their feature film prize went to Retablo by Peruvian artist Alvaro Delgado-Aparicio, a beautiful tribute paid to the Quechua culture of the Andes, and an illustration of filial love enabling a youngster to overcome the prejudices of a rigid society. Amongst students' films, Moment by Ukrainian Julia Tamtura — two young soldiers scouting the woods in a war zone — achieves, in a few minutes, to launch from the ruins of a war torn house a claim of confidence in the future; and in the 'short films competition', Grams (Camille Japy, France) entertains on a daring and humorous tone that death is part of poor lives.
But other jewels are worth mentioning: The Load (Teret, by Ognjen Glavonić, Serbia/Croatia), a terrible story located in Serbia under NATO bombing: meandering across the blocked roads of a besieged country, a sealed truck hides an inhumane tragedy; Silent Night (Ticha Nich by Piotr Domalewski, Poland) shows the eruption of conflicts within a rural family whose nerves have been broken by the dismantling of the society around them. The strange Scary Mother (by Ana Urushadze, Georgia/Estonia) is about an aging lady engulfing herself totally in her creative dream of becoming a writer, neglecting all other considerations.
Among short films, Close Ties (Sofia Kowalevska, Poland) is a delicate and sensitive picture of a very old couple whose daily squabbling and sweet-and-sour memories help them face up to their coming senility. Piled Clouds (Wong Cheuk Man, Hong-Kong) provides an example of conviviality between a retired mariner and a young student who share a house for a few weeks, whereby both benefit from their casual relationship.
A wide variety of topics have been addressed in the selections of KIFF, with the social setup and conditions a major concern of most movies. Was it because film directors at MOLODIST are generally young, or - not unrelated - because they lack funds for doing otherwise: present times and local interest were ubiquitous.