The Many Faces of Cannes
One image dominated the official publicity for the 68th International Film Festival in Cannes (May, 2015): the face of Swedish film star Ingrid Bergman (1915-1982). This black and white photograph was reproduced on every official programme and emblazoned on two huge bill boards above the red carpets leading up into the Palais des Festivals. It was hard to miss her watching benevolently over the crowds, even when dashing into the next competition screening. The feature length documentary Jag Är Ingrid (Ingrid Bergman, in Her Own Words) directed by Stig Björkman (2015) was screened during the festival as part of the Cannes Classics section. Her daughter, Isabella Rossellini, Chair of the 2015 Un Certain Regard jury, described in an awards ceremony how her mother was looking down over everyone like the festival's 'guardian angel'.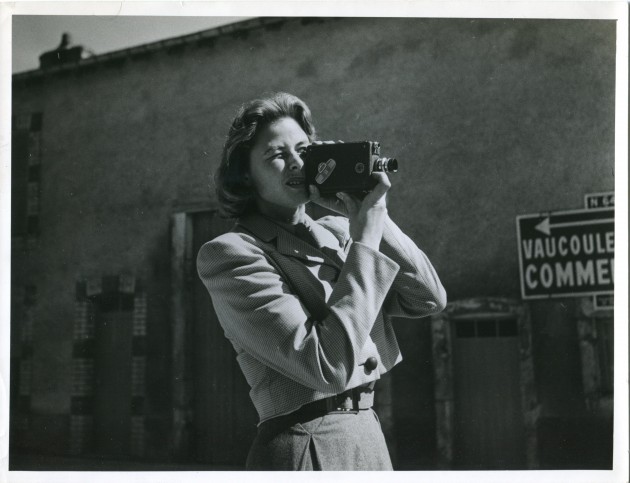 Ingrid Bergman in Jag Är Ingrid (© Festival de Cannes)

This natural, fresh image stood in sharp contrast to another series of faces that gazed down from the nearby iconic Carlton hotel throughout the festival: the lead actors from a film screened out of competition Mad Max: Fury Road (2015). Emblazoned on posters nearly half the height of the Carlton, they almost burst out onto the Promenade de la Croisette. One face particularly caught the eye, half-obscured though it was by a fierce mask bearing metallic teeth so that only the eyes, nose and wild hair were fully visible. The picture speaks, or rather shouts loud, of furious violence. The celebrity here is less the actor himself, Hugh Keays-Byrne who plays Immortan Joe in the latest incarnation of the Mad Max franchise, but what this distorted countenance is pointing towards: a violent adrenaline-inciting action movie directed by George Miller, who also directed the original (1979, 1981 and 1985) Mad Max series. 
Juxtapose these two faces, one from the Golden Age of Hollywood, the other from a dystopian cinematic future, and it would be possible to simplify them to icons of smiling art and rapacious capitalism. This is, of course, too simplistic. Making fortunes through both smiling faces and dangerous masks is by no means a new craft. Faces reveal different kinds of celebrity and they can be put to different artistic and commercial uses by film-makers, festival organizers and journalists. Dozens of photographers, flanking the red carpeted staircase, jostle annually for the best shot of celebrities who ascend the staircase (la montée des marches) every afternoon and every night during the festival. The more well-known the face the more valuable the shot. With over 30,000 people now coming each year to Cannes for the film festival, photographers inevitably have to be selective. Certain faces or bodies attract more attention than others, and will be circulated digitally, collected, commented upon.
In 2015 over 1500 films from over 100 countries competed for places in the Festival: around 19 prized spaces in the main competition, another 19 in Un Certain Regard and several more out of competition. There is a range of other competitions and screenings. For example, from the 4,550 films that entered, 9 competed for the Short Film Palm d'Or and from the 1,600 film students who submitted a film, 18 were selected to compete in the Cinéfondation. Whose humanity is screened? Whose faces will be seen? Whose facial features will be enlarged many times over? These questions are answered first by the film-makers themselves and then by several selection committees who watch all the films submitted. Cannes, like the other major film festivals, invests considerable time deciding whose face will be included and whose face will be excluded, and then whose faces will be celebrated and rewarded.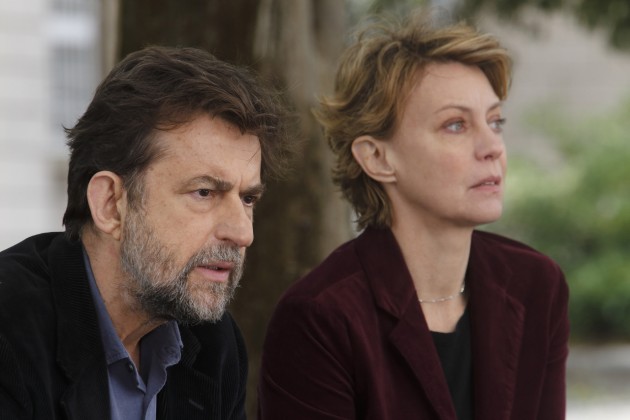 Nanni Moretti and Margherita Buy in Mia Madre (© Koch Media)

In 2015 the six-member International Ecumenical Jury, made up of delegates from Canada, France, Germany, Italy and the United Kingdom, watched and then discussed a wide range of different screen stories, which included both new faces and old. The Ecumenical Jury's prize was awarded to Mia Madre (directed by Nanni Moretti). The most memorable faces in this warm, thoughtful and poignant Italian film were an over-worked film director (played by Margherita Buy), her stoical brother (Nanni Moretti himself) and her dying mother (Giulia Lazzarini), along with a comically egotistical actor from the USA (John Turturro).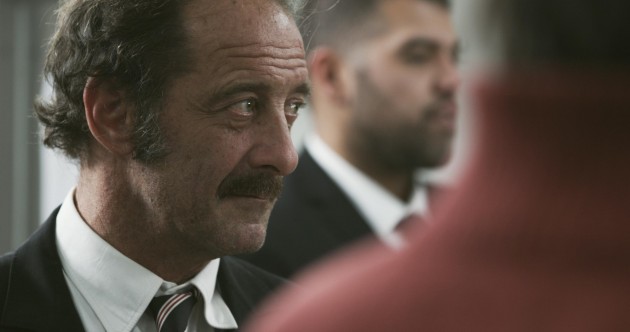 Vincent Lyndon in La loi de marché (© Festival de Cannes)

The ecumenical jury gave two further commendations. The first was awarded to the French film La Loi de marché (The Measure of a Man, directed by Stéphane Brisé), which had at its heart the dignified face of a 51 year old man played with restrained force by Vincent Lindon. After more than 20 months of unemployment he becomes a security guard at a local supermarket, only to wrestle with his new role and all the dilemmas that working in the midst of a consumer culture brings. The world and faces portrayed through this prophetic film are a far cry from the red carpet world of celebrity photographers. The same is true of the second film to be commended by the ecumenical jury: Taklub (directed by Brillante Mendoza). Set in the shadows of natural catastrophes in the Philippines, it provides a dramatic portrayal of individuals and communities working to promote life in the midst of suffering and death. In documentary style, this feature film revealed the unforgettable faces of  several characters persevering through anguish, despair and heartbreak, though in some cases even edging towards tentative hope.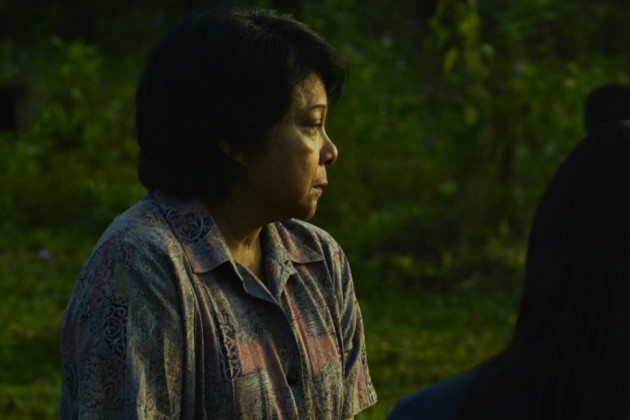 Taklub (© Festival de Cannes)

This film was reminiscent of aspects of the winner of the Golden Palme, which was Dheepan (directed by Jacques Audiard), the story of refugees fleeing from battles in the civil war in Sri Lanka only to find themselves caught up in different kinds of battles in inner city France. This film has a violent and then surprisingly happy ending, which divided audiences. Some were silent and others cheered. One of the strengths of this film is that it reveals the complexities of trying to escape from the effects of violence. The Grand Prix was awarded to a Hungarian entry. Saul Fia (Son of Saul), directed by László Nemes, took its audience on a father's extraordinary and painful journey through 1944 Auschwitz in search of a place and a rabbi to properly bury the body of a young boy, whom he believes to be his son. This film relies on tight close-ups of the protagonist's face, a weary looking Jewish man working as Sonderkommando in the concentration camp, and a dissonant accompanying sound track. For many viewers it made for a painful and mesmerizing cinematic experience.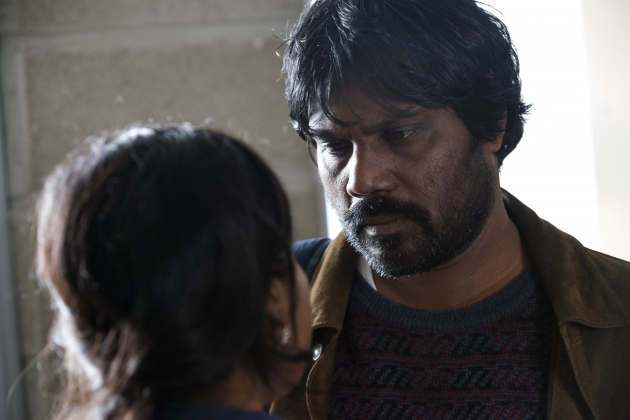 Dheepan (© Festival de Cannes)

The final film shown in the main competition at Cannes in 2015 was a dark and bloody adaptation of William Shakespeare's Macbeth (Justin Kurzel), commonly known by actors as 'the Scottish play'. Early in the film, close-ups of the actors' faces heighten the drama and the sense of foreboding. The very last line of the first act confirms that Macbeth has been persuaded by his wife that to kill King Duncan is the best way to obtain the crown for himself: 'False face must hide what the false heart doth know'. False face is a recurring motif in the play and raises questions about the face as something that can be used as a mask behind which to hide.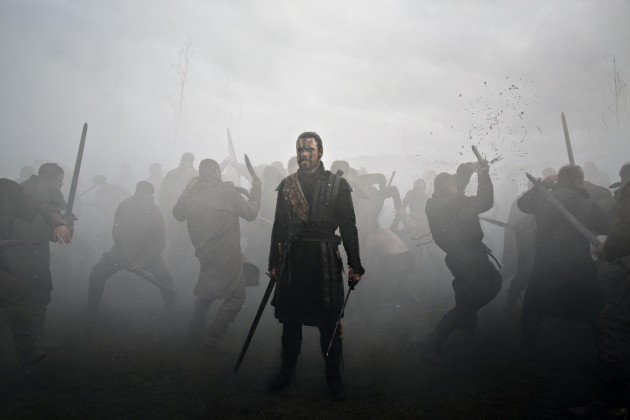 Macbeth by Justin Kurzel (© Festival de Cannes)

Following Konvention it is often in the soliloquies in Shakespeare's tragedies where the truth is revealed and masks taken off. Following news of his wife's death, Macbeth's declares that his own life is now little more than 'a poor player that struts and frets his hour upon the stage and then is heard no more'. Unmasked, his face in the film is torn by heartbreak as he describes the performance of life as no more than 'a tale told by an idiot, full of sound and fury, signifying nothing'. These famous lines put a question mark over Macbeth's entire ambitious project and his attempt to scale and then hold onto the throne of power. Watching this film at Cannes it is possible to see in these brief lines an implicit critique of the project that is sometimes known as the building and promotion of a celebrity's face. The point here is that embedded within the festival itself, in one of its nineteen selected films, is a defacement or powerful critique of the understandable yearning for significance, recognition and applause.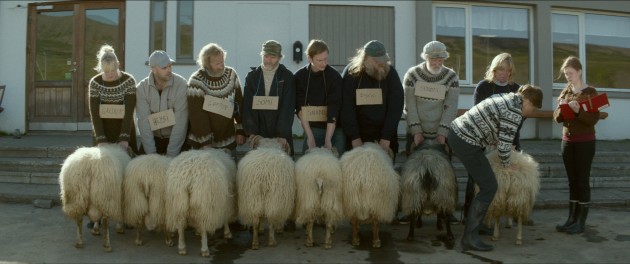 Hrútar (Rams) © Festival de Cannes)

The recognition sought in the Icelandic film Rams (Icelandic: Hrútar) directed by Grímur Hákonarson was one of the most surprising. Two farmer brothers who have not spoken for several decades each desire praise and prizes for their carefully nurtured rams. Winner of the Un Certain Regard section, this gem of a film has also been selected as the Icelandic entry for the Best Foreign Language Film at the 88th Academy Awards in 2016. These bearded brothers appear to hate each other. Their facial expressions speak of jealousy, rage and loathing. The film first explores familial division and then how far reconciliation might be possible, and does so in a simple and understated fashion. Unlike Inside Out (directed by Pete Docter and Ronnie del Carmen) Pixar's out of competition and widely praised offering, which takes viewers inside the head of an 11 year girl and celebrates the emotions of both joy and sadness, Rams leaves it up to the viewers to try to imagine themselves behind these memorable Icelandic faces, and to search for new emotions that might whisper the wisdom of working for peace. Aspects of the film festival at Cannes can also be seen as part of that peace-building process. Going beneath the faces of films takes time and is perhaps most creatively done when reflecting with friends or colleagues on how a film invites us to come face to face with new worlds and more peaceful ways of living.