The Importance of Supporting Young Filmmakers
Report from the 68th International Short Film Festival in Oberhausen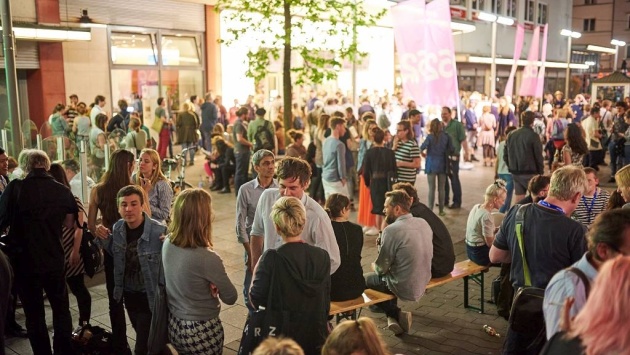 Impressions from the International Short Film Festival Oberhausen 2022 (© Joël Friso)

"They want it short", says director Panos Aprahamian in Odorless Blue Flowers Awake Prematurely (Lebanon, 2021), "but it's actually short because I don't have much to say about the end of the world." What's so attractive about the International Short Film Festival in Oberhausen is that, when the lights go out, you get surprised time after time. Fiction, documentary, experimental, conventional, it's all there in the competitions of this festival. And the films literally come from around the globe. Like in Odorless Blue Flowers Awake Prematurely, to which we awarded the Prize of the Ecumenical Jury (more on that later), filmmakers play with the expectations of the audience when making a short film. Sometimes words don't matter, but the images speak for themselves. As a member of the Ecumenical Jury, I loved to be part of the audience of this festival in sunny Oberhausen, Germany.
Filmmaking is political
Making a film is a political act, an Egyptian filmmaker explained in one of many debates and workshops that are organized during the International Short Film Festival in Oberhausen. Even if your film isn't about political events in your country. It's political, because you have to deal with a lot of people, before a film is ready to screen, for example here in Oberhausen. Film is an expensive medium and too often young filmmakers find themselves limited in their wish to experiment. Therefore, it is important to be back again in Oberhausen after three years, because of the pandemic, for a festival week on site. Personally, this was also my first festival experience since a long time.
Of course, the pandemic was still present in Oberhausen. Besides wearing facemasks in the cinemas, the festival organisation was faced with several challenges. Like: continuing a hybrid festival or not? And how to finance this new type of festivals? Festival director Lars Henrik Glass also had to deliberate the consequences of the war in Ukraine. He didn't want to exclude Russian filmmakers, who themselves were devastated by the aggression of their country. As mentioned before: film and politics are close to each other. During the week a lot of political statements were made. You could say that making film is a way to express a lot of restrained anger people have around the world.
The spiritual dimension
Not only film and politics, also film and religion are close to each other. The Finnish director Mika Taanila attended the screening of his beautiful documentary Six Day Run (2013) about an extreme individual endurance sports event. He said: "Sport films are about pain and sacrifice, and therefore religious." I think you can leave out "sport" in this quote. Often films could be a religious experience in itself, in its search to transcend the daily life. This is one of the reasons why I like to participate in an Ecumenical Jury, because we especially pay extra attention to this spiritual dimension.
Rollercoaster experience
Our jury saw 49 films in the International Competition and another 15 films in the Youth Film Competition. I won't even try to summarize this rollercoaster experience, which it was. Just let me pinpoint some of the films we've seen. We were impressed by Sekundenarbeiten (Austria, 2021), about an old woman artist confronted with failing eyesight, but still craving to create beautiful drawings with her hands. We were surprised by Saving Some Random Insignificant Stories (Greece, 2022), wherein the filmmaker shows the damage in her parents' house because of a flood. She makes a trip down memory lane and underlines that humour is a way to deal with the harsh reality. I personally enjoyed Whakapapa/Algorithms (New Zealand, 2021) because watching the film by Mãori artist Jamie Berry about 'whanau' (family) and 'whenau' (land) was a spiritual experience itself. It taught me that if spirituality isn't rooted in common ground and new life, it becomes empty.
Special recommendation for Titan
Out of the Youth Competition we gave a recommendation to Titan by Valéry Carnoy (Belgium/France, 2021), for its powerful portrait of a 13-year-old teenager confronting the violence of a strange initiation ritual. A touching image of a childhood in turmoil preserved by the unconditional love of a mother.
Award for Odorless Blue Flowers Awake Prematurely
The Prize of the Ecumenical jury went to Odorless Blue Flowers Awake Prematurely. For many inhabitants of this world, the dystopia is not a future possibility but rather a historical reality. This outstanding dystopian non-fiction film explores Beirut after the blast on August 4, 2020. The images stick to your mind and so is the narration by the beautiful voice of Zuhour Mahmoud. We motivated our choice as follows: "If the world that was yours ends, if you cannot even smell the source of life, there isn't much left to say. This short film witnesses the future seems far away, but the hope lies in the image outside the cosmos of those who rule." With a war in Ukraine, the message of this film is very actual.
This festival week taught me about the importance of making film. We have to support young filmmakers, for example by endowing prize money as churches.