Following Two Directions
Workshop of the Ecumenical Jury Miskolc 2014. By Szabolcs Gebauer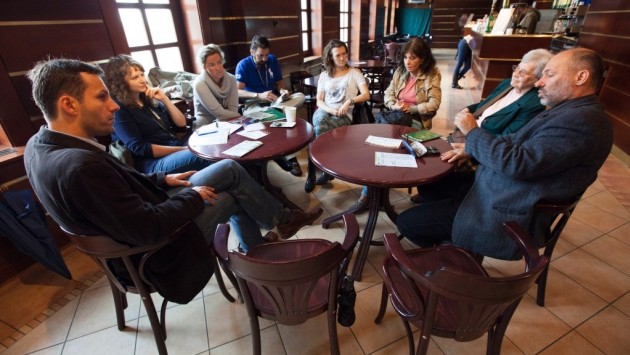 The workshop with the jury members and Dr. Ákos Kovács (right in front)

At the 11th Miskolc CineFest the Ecumenical Jury, appointed by SIGNIS and INTERFILM, organised a workshop about the church commitment to film festivals. The Ecumenical Jury was present for the third time at the Miskolc CineFest.
The head of the workshop was the Hungarian representative of the Film Department of SIGNIS, Dr. Ákos Kovács (at the photo at the right, in front). The members of Ecumenical Jury of the 11th Miskolc CineFest were Ana Lanuza Avello from Spain (President of the Jury), Vanessa Locke from Germany and Szabolcs Gebauer from Hungary.
The workshop took place in the elegant cafeteria of the festival centre on the first day of the festival at 10 am. The topics of the workshop were the role and importance of an ecumenical jury at international festivals; standpoints of the ecumenical jury; personal experiences, goals and ideas about the work of the jury.
The strongest opinion was that beside the professional aspects (such as: story, script, photography, editing, music, sound, acting, casting, directing), human and Christian values such as: human dignity and human rights; solidarity with all kind of minorities, disadvantaged and oppressed people; support for processes for liberation, justice, peace and reconciliation; preserving creation and the environment play a decisive role in the jury considerations. Both perspectives are regarded also by the jury criteria established by the church film organisations. The audience followed the discussion with great interest.