The Fascination of Religion in Film
The 2022 Conference on Religion & Film in Amsterdam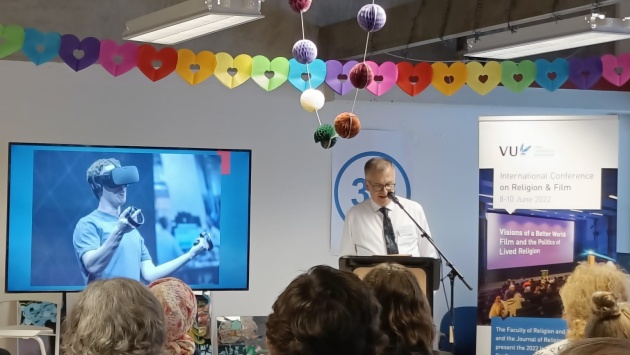 John Lyden on Life in the Multiverse

Every two years leading scholars in the field of religious studies and film gather to celebrate the International Conference on Religion and Film. This year the Vrije Universiteit Amsterdam hosted about fifty experts to share their ideas on Visions of a better world: Film and the politics of lived religion. Among the presenters were four INTERFILM members. Peter Ciaccio talked about the work of Liliana Cavani, Sofia Sjö explored the question of gender in the messiah myth as portrayed in movies. Most timely was the lecture Jolyon Mitchell gave on the search for peace in Ukrainian and Russian Film, while I explored the question of meaning in life and its relation to film.
Accompanied by keynotes given by Sheila J. Nayar and John Lyden most fascinating topics were explored and discussed. From the question whether cinema and television take the place of religion in creating meaning to the history of the white Jesus in Western cinema presented by Sharon Roubach. Dan W. Wasserman posed the most fascinating question: Did God Attend the Screenings of 2001: A Space Odyssey? and Pablo Alzola explored the Home as a form of sacrament in Terrence Malick's work.
While the range of topics was too broad to narrow down, reoccurring themes were the current interest in multiverses in the context of the crises of our time and the lasting fascination with religion and its symbolism in contemporary film. An evening panel with the three Dutch filmmakers Elsbeth Fraanje, Jaap van Heusden and Kees-Jan Mulder emphasized the latter. The three artists where showing excerpts from each other's work they found especially religious or spiritual and discussed them. Both moving and highly insightful the three gave a glance into the view of the producers of film and contextualized the discussion of the surrounding conference with their practical wisdom.
The next International Conference on Religion and Film will be held in Pasadena/Hollywood in the summer of 2024. The organizing team is already reaching out to local film makers and famous movie sites, which will be part of the program. And who could ever doubt that Hollywood is the perfect place to host the next edition of this important conference?