Disturbing insights into political as well as intimate relations
Report from the beginning of the Venice Film Festival 2022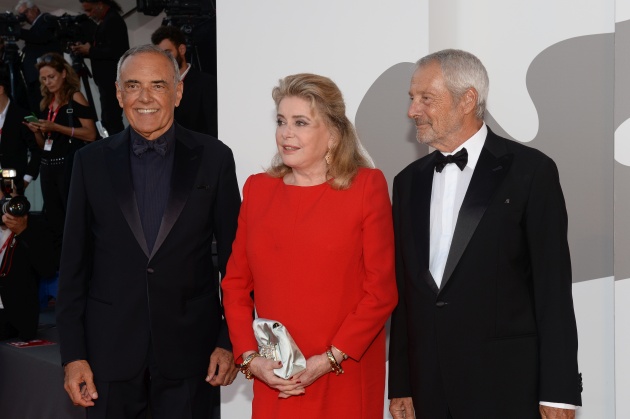 Festival director Alberto Barbera, Catherine Deneuve and Biennale President Roberto Cicutto at the Opening Ceremony (© La Biennale di Venezoia - Foto ASAC, ph. Giorgio Zucchiatti)

Catherine Deneuve who made her first visit to Venice in 1967 with "Belle de jour" was the star of the opening night receiving a Golden Lion for her career. "Such an honorary award is always a double-edged thing. A signal that one's career is as good as over." Not so with Catherine Deneuve, who continues to work even at the age of 78 and has just completed a new film. She plays Bernadette Chirac, the wife of former French President Jacques Chirac. She has never seen herself as a sex symbol, but always maintained her elegance, which is why it wasn't difficult for her to play older women over the years.
For this year festival director Alberto Barbera had announced a selection of attractive but also controversial films that do not turn a blind eye to a world full of conflicts. In the competition there are a number of features that take up political themes, but also films that deal with family constellations. There was a lot of curiosity for "Kehrs nist" (No Bears), the new film by the persecuted Iranian director Jafar Panahi, who was recently arrested. As a sign of solidarity, a flash mob on the red carpet took place on the day of the premiere.
Barbera sees cinema in a period of transition. Netflix has become one of the biggest producers of ambitious films and finances the projects of renowned directors. "The whole system of production and distribution is rapidly changing." Film festivals should provide a platform for arthouse films, Barbera says, getting them noticed and making audiences curious to go back to the cinema after the two-years pandemic.
Noisy Disaster: WHITE NOISE
Accordingly, Venice was the first festival to open up to Netflix. This year, there are even four Netflix productions in competition including the opening film, "White Noise", directed by Noah Baumbach. It stars the omnipresent Adam Driver and Baumbach's muse Greta Gerwig, equipped with 1980s wigs. A New York cult director of American independent cinema adapts the legendary novel by cult author Don DeLillo. A safe bet, one might think. But the result is far from convincing.
Adam Driver plays a college professor in the Midwest who specializes in "Hitler Studies." Unfortunately, he doesn't know German and secretly takes language lessons. Instead, he knows all about Hitler's relationship with his mother. Fittingly, two of the children are named Heinrich and Steffie. Their parents have an obsessive fear of death, but when one day a disaster strikes at their doorstep, they refuse to acknowledge the threat. A truck collides with a freight train and causes what is euphemistically called an "Airborne Toxic Event". A cloud of poisonous gas hangs in the sky and rains down on the peaceful small town.
Adam Driver in "White Noise" (© Netflix)

A perfect scenario for a topical thriller, one would think. But what emerges is a "confused mixture of satire and disaster film," as Paolo Mereghetti aptly notes in the Italian daily "Corriere della Sera". Baumbach indulges in film quotes and unmotivated moments of slapstick when everything descends into chaos during the evacuation. An endless stream of dialogue, sometimes profound but often banal, gives the film the feel of a breathless radio play. Lars Eidinger makes an appearance as a sleazy medical drug dealer who meets his deserved end, while Barbara Sukowa, hardly recognizable in her religious habit, is allowed to speak the closing words as Sister Hermann Marie.
Ambivalent Star Portrait: TÁR
"TÁR" by Todd Field, on the other hand, is of a different quality. Celebrated years ago as a wunderkind of American independent cinema and nominated for several Oscars, Todd Field has not directed a film since "Little Children" (2006). Cate Blanchett plays the lesbian star conductor Lydia Tár, who, encouraged by Leonard Bernstein, eventually becomes the first woman to lead a German orchestra in Berlin. She wears tailored suits, lives in a thoroughly styled apartment together with her first violinist (Nina Hoss) and their jointly adopted daughter. She jogs and boxes to stay in shape, travels between Berlin and New York, where she brilliantly dissects the contradictions of cancel culture in a master class.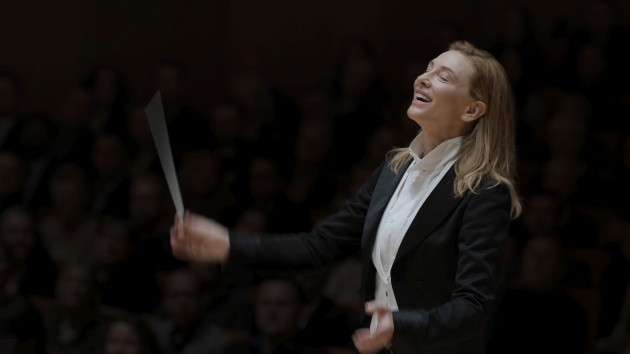 Kate Blanchett in "TAR" (© Focus Features)

On the other hand, she ruthlessly uses her success to her own advantage. When Lydia has her eye on the new cellist Olga (Sophia Kauer), she does everything to promote her and get her a solo part. She leaves her ambitious assistant (Noémie Merlant) out in the rain when it comes to filling an important position. But when a former protégé of the conductor commits suicide, Lydia's reputation comes under pressure. #MeToo allegations are raised, a manipulated video puts her in distress and her life is coming apart. Todd Field succeeds in creating the captivating portrait of a creative personality who succumbs to the temptation of abusing her power.
Cate Blanchett, present in almost every shot, delivers a first-rate performance. Effortlessly, she moves along a spectrum from intelligent arrogance to furious despair. However, despite a length of more than 2 ½ hours, the film does not manage to resolve everything it has previously hinted at. Too many mysterious clues come to nothing, leaving the viewer somewhat frustrated at the end.
Between Reality and Imagination: BARDO
"BARDO, falsa crónica de unas cuantas verdades", which could be translated as "False report about some truths", is also a Netflix production and was one of the most eagerly awaited films at the Lido. However, its length of roughly three hours doesn't do the work any good straining the viewer's patience. Nevertheless, multiple Oscar winner Alejandro González Inárritu impresses with grandiose images and disturbing dream sequences. "BARDO" is his first film since "Amores perros" to be shot entirely in Mexico. Daniel Giménez Cacho, recognizable as the director's alter ego with a beard and long hair, plays Silverio, a journalist who returns to Mexico with his family after 20 years in Los Angeles and no longer feels at home there. His children prefer to speak English. When he is to be awarded a prestigious American journalism prize, he encounters envy and rejection in Mexico. He is accused of having sold out to the gringos. Even though González Inárritu rejects autobiographical references, allusions to his international success and Oscar awards in Hollywood are easily recognizable.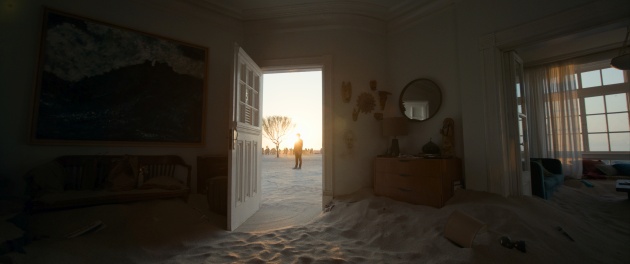 BARDO, falsa crónica de unas cuantas verdades (© Netflix)

BARDO constantly moves between realistic and surreal sequences. An apartment is suddenly under water or filled with sand. Thus, the film elliptically meanders along, while the personal obsessions of the protagonist form something like a red thread. Numerous references to Mexican history are inserted along the way. On a mountain of Indian corpses, Silverio has a conversation with the Spanish conqueror Hernán Cortés. In the castle of Chapultec, the residence of the Spanish viceroys, one of the last battles of the Mexican-American War is re-enacted. And of course, the border between Mexico and the United States also plays a central role. Questions of personal and cultural identity are a guiding theme. Cinematically González Inárritu is moving in the footsteps of Fellini's "8 ½", the famous model of artistic self-questioning, while putting the audience's patience to a hard test over the course of three hours.