Church of Sweden Youth Film Award 2019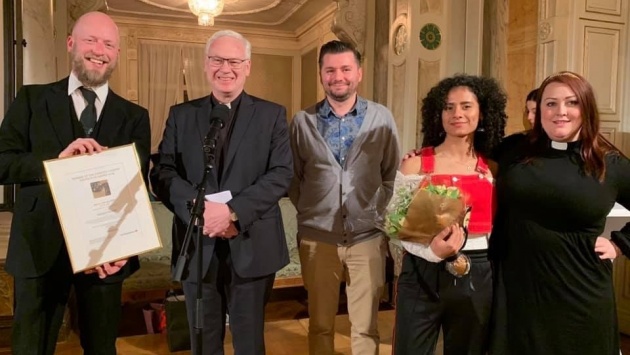 Presentation of the Church of Sweden Film Award 2019, from left: Jesper Ödemark, Per Svensson, Ivica Zubak, Zahraa Aldoujaili and Erica Lang (photo: © Maria Lundström)

"Zen sul ghiaccio sottile" (Zen in the Ice Rift) by Margherita Ferri from Italy is the winner of the Church of Sweden Youth Film Award 2019. The prize, endowed with 100.000 SEK by the Church of Sweden, was presented at the Award Ceremony of the BUFF Young People's Film Festival in Malmö on 28th March by Rev Per Svensson. The film tells the story of a young woman's struggle for identity and self-assertion in a hockey team where she is the only female player.
"There is a time for everything. A time to die. A time to be born. A time to tear down. A time to build. In this intense story with its directness and authenticity we follow a human being's liberation and fight. A story about the sexes without sex itself being the focal point. This challenges the viewer in a convincing way thanks to extraordinary performance by the actors," the jury motivated its decision.
Members of the jury were Jesper Ödemark, parish educator for confirmation and youth activities, Erica Lang, pastor, Ivica Zubak, director, script writer and producer, and actress Zahraa Aldoujaili.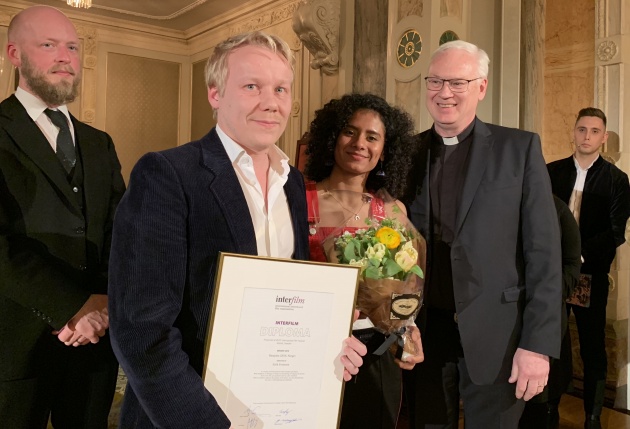 Director Eirik Svensson with the INTERFILM Diploma (photo: © Maria Lundström)

In addition, the jury awarded an INTERFILM Diploma to the Norwegian film "Harajuku" by Eirik Svensson. The jury motivation reads: "A visually colourful picture which touches and charms. With emphasis on feelings of being lost and feelings of longing, the picture shows how life can transform itself in a few moments. With its timeless subjects like dreams of the future, loss and abandonment, the story is both pressing and important." The film tells the story of an existential turning point in the life of a teenage girl fascinated by Japanese culture.
Link: Information on "Zen in the Ice Rift" by the film's production company