Church of Sweden Film Award 2019
Bishop Susanne Rappmann awards Prize at 42nd Göteborg Film Festival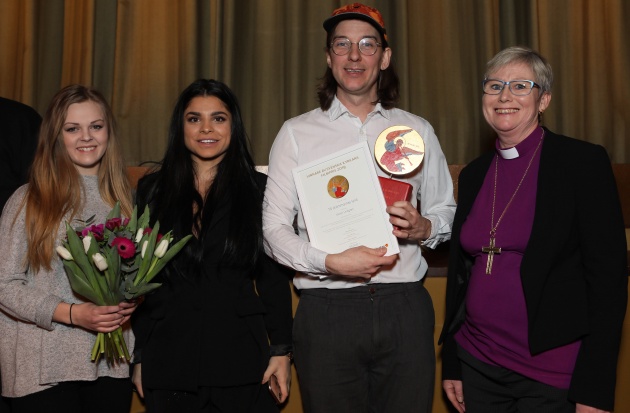 At the award ceremony (from left): Elin Marklund and Andreea Petre, the two main actresses of the film, film director Victor Lindgren and Bishop Susanne Rappmann (© photo: Mikael Riklander)

"Till drömmarnas land" (The Unpromised Land) by Swedish film director Victor Lindgren wins the "Angelos", the Church of Sweden Film Award, in 2019. Bishop Susanne Rappmann awarded the prize at the premiere of the film at the 42nd Göteborg Film Festival (January 25 - February 3, 2019). It carries a prize money of 50.000 SEK donated by the Swedish Church.
The members of the jury were Ewa Cederstam, cinematographer, documentary filmmaker, and lecturer; Gunnar Bergdahl, culture journalist, editor, film maker, and former festival director of the Göteborg Film Festival; and jury president Mikael Ringlander, pastor, and project manager Kultursamverkan of the Göteborg diocese.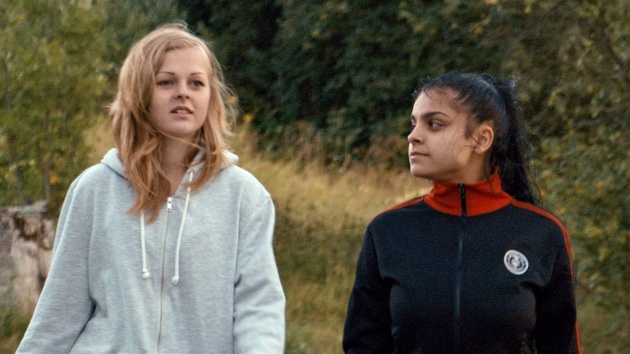 Till drömmernas land

The motivation of the jury reads: "With strong presence, fingertip sensitivity and intensity this debut feature captures a range of the most acute contemporary issues. Urban versus rural, us versus them, alienation and longing. Cinematic craftsmanship seamlessly blends with unforgettable portraits of two young women who meet beyond all language barriers. All captured in visually strong images creating an important reflection of Sweden today."
In co-operation with the festival, the Swedish Church organised seminars, panel talks and a workshop connected to the festival's "Focus: Apocalypse". The events included discussions on the existential, philosophical and emotional dimensions of the apocalyptic threat, on apocalypse and pop culture, and with American author and scholar Roy Scranton who teaches and publishes within the area of apocalyptic theory.