Church of Sweden Film Award 2012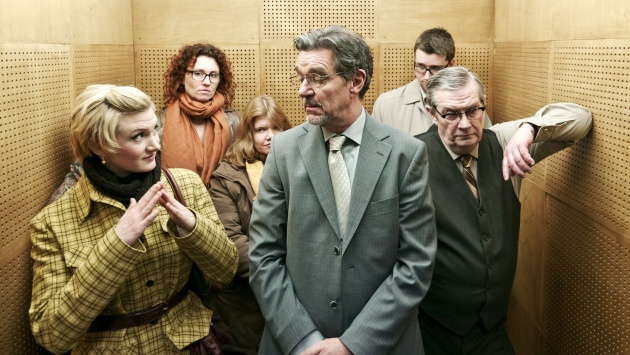 The Church of Sweden Film Award 2012 has been given to the comedy Flicker (Flimmer, Sweden 2011). The prize money of SEK 50,000 was presented by Lars Eckerdal, former bishop of Gothenburg, at the Dragon Awards gala during the 35th Göteborg International Film Festival (January 27-February 6, 2012).
Flicker, a heart-warming comedy about life at a failing telecommunications company, is the film debut of director Patrik Eklund. Its message is that it is helplessness that brings people's humanity to the fore most clearly. Kjell Bergqvist plays the part of a reluctant managing director in the film, which portrays the struggle of ordinary people against threats to climate, demands for growth, childlessness and arachnophobia.
The reasons given by the jury for presenting the award to Flicker were as follows: "With warmth and ingenuity, Flicker portrays the human comedy. When life is at its darkest, deliverance is close at hand!" It is the first time since 2004 (Four Shades of Brown/Fyra nyanser av brunt) that a comedy is being awarded the prize.
The Church of Sweden Film Award is presented annually to a Swedish feature film that premières during the festival. The film must be of high artistic quality and raise the profile of existential, justice or social issues in its plot and form of expression. Films are nominated by Göteborg International Film Festival.
This year's Film Award jury was made up of the following: 
Mikael Ringlander, chairman, priest and project manager of Kultursamverkan, Gothenburg. 
Ola Sigurdsson, professor of systematic theology at the University of Gothenburg and director of the Centre for Culture and Health.
Helle Sihm, actor, film critic and permanent jury member for the Evangelical-Lutheran Church in Denmark's Gabrielpris film award. 
Mikael Larsson, officer for cultural issues at the Central Church Office in Uppsala and contact for the Church of Sweden Film Award.