Church Media Foundation Prize at Tampere Film Festival 2017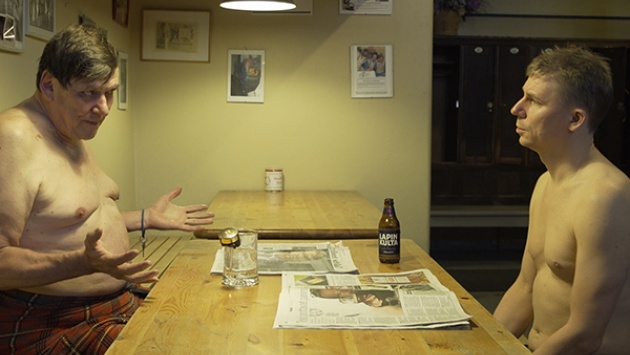 © Mouka filmi
The Church Media Foundation Prize at the Tampere Film Festival 2017 was given to the director Elina Hirvonen for her documentary film "Boiling Point" (Kiehumispiste, Finland 2017, 90 min).
"Boiling Point" studies the cause and effect of the spread of fear and hate by observing people with different backgrounds. An immigration critic and a fascism researcher tie the events together while pondering these questions every Friday in a public sauna.
The jury for the prize was Mr. Jean Bitar. He is a film director born in Beirut. He graduated from the Moscow film institute. He moved to Finland in 1978. In 1984 he founded Bitar Films that has been active ever since.
His arguments about the film:
"For me there have been recently quite a lot of different programs, which have been dealing with refugees and immigrants. Even so much that I thought to select some other theme for my choice. However, when I saw a film, which was dealing evenhandedly the Finnish reality with its wounds, where is space for different standpoints, I felt how important such a statement is. You cannot overestimate its importance.  I'm an immigrant myself, living in Finland over thirty years, so I think I'm capable to estimate this question both as an immigrant and as a Finn. That is why I see the importance of these kind of statements, where people are talking openly with each other with respect. Two men in the sauna, without any masks or signs, listening each other and respecting each other, that is the picture I would like to be strengthened. The film is honest, well done with high artistic level and thus fulfills all the criteria for the prize."
The prize is 1.500 euros and it is given to the director of the best film in the National Competition. It was awarded now for the first time in Tampere Film Festival.
The Church Media Foundation has been established 2015 by The Evangelical Lutheran Church of Finland and it is supporting filmmakers to do programs dealing with religion and ethical issues. It has also two film prizes: Since 2009 at the Oulu Children and Youth Film Festival and since 2017 also at the Tampere Film Festival.
Link: Film website