Church Media Foundation Prize at Tampere 2018
Finnish documentary by Virpi Suutari award winner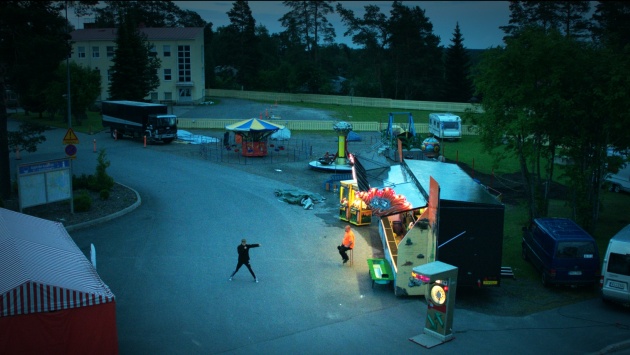 The documentary "Vyrittäjä" (Entrepreneur) by Finnish director Virpi Suutari wins the Church Media Foundation Film Prize at the Tampere Film Festival 2018 (March 7-11). The film combines the stories of a small businessman and his family selling meat wih his truck across the country, and two woman scientists who invented a vegetarian protein product and becam millionaires.
Juror of the prize was Eva Wäljas, spokesperson and development expert for the Evangelical Lutheran Parish Union of Tampere, and member of the board of the Church Media Foundation. She studied media and communication at Helsinki and film in Canada. Her motivation for her choice reads:
"Faith, hope and love. Three views through which I have watched this year´s films of the national competition at the Tampere Film Festival as the jury of the Church Media Foundation. The criteria for the Church Media Foundation Prize require promoting Christian values: love of your neighbour, Christian hope and responsibility for each other as well as for the environment. The task has been inspiring and at the same time challenging: there have been several films in the competition that raise the aforementioned themes and values. Still, there was one film that met all the criteria.
The film is about Finland, a divided country where people live in different realities. But for me, the film tells about humankind that is the same whether you live in a rural parish or in the capital. Each of us has the need to believe, to hope and to love and to be loved back. Life is a series of successes and failures, and we can consider ourselves lucky to have someone sharing those moments with us. The film has a very subtle and gentle way to deal with faith which I find very valuable. Faith is shown as a resource: for the love for your neighbours and the choices we make in our everyday lives, for mercy and forgiveness, trust and hope even when faith and hope are put to test. Faith is not sized down to an isolated part of a person´s life but is shown as an integral part of life, just as work is.
The film is of high quality and skillfully made, and meets the criteria of this prize. I appreciate the director's ability to observe her object compassionately and gently."
The prize is worth € 1.500 and has been awarded for the second time.