Church Media Foundation Award 2021
Suvi West's "Eatnameamet - Our Silent Struggle" Wins Church Film Prize at Tampere Film Festival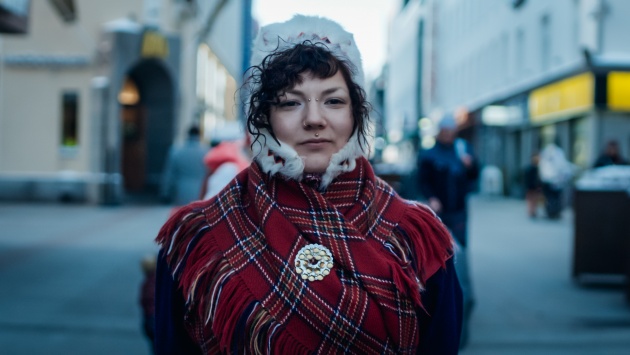 Director Suvi West has been presented with the Church Media Foundation Award at the Tampere Film Festival 2021 for her film Eatnameamet – Our Silent Struggle. The award is endowed with € 1.500.
The winner was chosen by deputy board member Fred Nordström from the Church Media Foundation.
Eatnameamet – Our Silent Struggle portrays the indigenous Sámi people fighting for their existence. The film follows the ongoing cultural genocide of the Sámi which the current Governmental politics allow. This film is a cry for help for the last indigenous people living in the EU.
The motivationfor the award states: "This year, the Church Media Foundation will award a film at the Tampere Film Festival that depicts a people's struggle for existence. It paints a picture of a people living under a colonial yoke where people belonging to this ethnic group are told that they deserve to die, their land is bought, and their culture is appropriated or assimilated into the culture of the majority. We know that the world and history is full of similar stories. But this story takes place in modern times and in Finland which makes the film startling.
This documentary film is a gaze at ourselves. It also requires of the viewer the noble skill of listening but if and when giving the voices a chance to sink in, it is impossible not to be moved by the emotions expressed by fellow humans in the film and it offers no room for underestimation. The film creates an honest picture of important matters of the Sámi people and does not offer clichés, but rather uses peaceful images as contrast to the stereotypics we all are familiar with.
The Church Media Foundation supports and rewards films and programs that raise issues of respect for human dignity and human rights, give voice to minorities, discriminated people or people under pressure, where justice, solidarity, peace and reconciliation are at stake.
The film is an important reminder to us Finns that we also have our own history as oppressors."
The Church Media Foundation was established 2015 by 24 largest parish unions and the Church Council of the Evangelical-Lutheran Church of Finland. The purpose of the Foundation is to support and promote producing, distributing and broadcasting programs dealing with religion, ethical issues and values.