Cannes 2023: Images of Life
Kritiken von Peter Paul Huth zu den Wettbwerbsfilmen von Todd Haynes und Aki Kaurismäki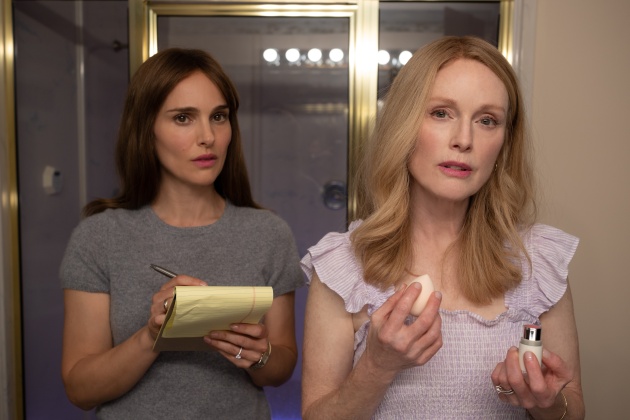 May December (© Francois Duhamel / May December Productions 2022 LLC)
Surprising
Todd Haynes is a director who surprises with every new film, through the rich variety of his subjects as well as the elegance of his mise-en-scène. With "May December" he is invited to the Cannes Competition for the fourth time. It is his sixth collaboration with Julianne Moore, who plays Gracie, a woman who left her husband and children 20 years ago, started an affair with a 13-year-old student and ended up in prison for it. Elizabeth Berry (Rachel Portmann), a Hollywood actress who is to portray Gracie's character in an adaptation, comes to Savannah, South Carolina, to meet Gracie and her family. Her visit opens up old wounds and triggers conflicts that have long been hidden.
But the film is not as straightforward as this summary sounds. It rather resembles a narrative labyrinth in which the viewer has to find his or her way. This is confusing at first, because you don't know how the characters relate to each other and how you should classify their reactions. You follow Elizabeth's search for clues and in the process delve further and further into the family's past. Gracie emphasises a little too emphatically how happy everyone in this patchwork family is. The underlying frustrations, the anger of the children from the first marriage and Gracie's own fears of loss suggest a reality that is apparently much less perfect than Gracie would like to see.
As in the Douglas Sirk-inspired melodrama "Far From Heaven" (2002) and the Patricia Highsmith adaptation "Carol" (2015), Todd Haynes once again demonstrates his special empathy for female characters and his ability to subvert narrative conventions. Nevertheless, "May December" does not seem mannered in any way and develops a surprising tension. Without a doubt a highlight in this year's competition.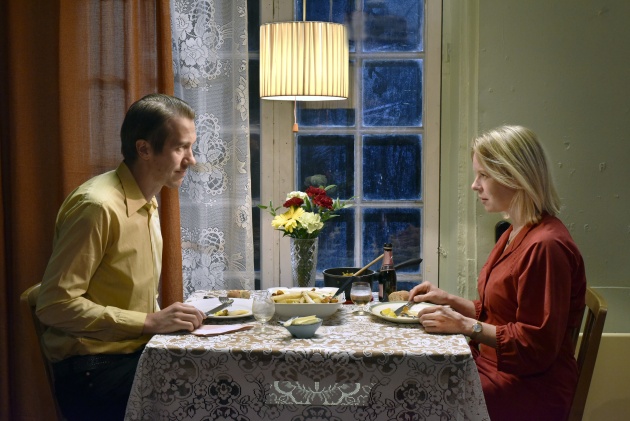 Fallen Leaves (© Sputnik)
Predictable
Surprising is probably the last thing one would say about the new film by Aki Kaurismäki. Apparently, Kaurismäki has been making the same film over and over again - with slight variations - for 30 years. His arthouse fans, critics and viewers, love him for that. These are stories of outsiders who are shaken by fate. This is also the case in "Fallen Leaves", the title of which refers to the French chanson "Les feuilles mortes" by Joseph Kosma and Jacques Prévert. A love story between two social outsiders on the outskirts of Helsinki. Ansa (Alma Pöyisti) works in a supermarket, Holappa (Jussi Vatanen) in a scrap yard. Ansa loses her job, Holappa drinks too much. The two meet and lose each other again. But as always in romantic  cinema tales, there is a happy ending after all adversities.  A  promise suggested by the colourful décor and warm light with which Kaurismäki's long-time cameraman Timo Salminen fills even the most modest rooms with hope.
Kaurismäki's characters act as stiffly as if they came straight out of a wax museum. They live in interiors of the late 50s and early 60s. It seems as if the director and his films are stuck in a time warp. Posters of Kaurismäki's favourite films hang in the showcase of a cinema, Brigitte Bardot next to Jean-Paul Belmondo in "Pierrot le fou", Alain Delon in "Rocco and his Brothers". Cinema-goers talk about Bresson's "Diary of a Country Priest" and Godard's "Gang of Misfits". An atmosphere of vintage and retro wafts through the film. Kaurismäki's cinema seems strangely mannered and self referencing. But that is precisely what makes it so successful. As a reminder of the present, there are radio news reports about the war in the Ukraine.
Once again, Aki Kaurismäki proves to be a cool brand name in European arthouse cinema. No wonder that  "Fallen Leaves" led the critics' ranking until the end of the festival.