Report from Berlin: A convergence of faith and film
(Los Angeles, Friday, March 10, 2006) For ten days in February, I was privileged to attend the 2006 Berlin International Film Festival as a festival juror. It was an exciting, exhausting time of nearly constant film viewing and film discussion. The Berlin Festival (referred to as the "Berlinale") is one of the world's premiere cinema events, offering a powerful line-up of films, from established filmmakers as well as emerging international talent. It also hosts the European Film Market, where scores of films are bought and sold for world-wide distribution.
At the outset, I offer one general observation about the festival's programming content. It was difficult and dark. With several suicides and considerable graphic violence, it challenged my sympathy for many of the stories and characters depicted on the screen. Numerous factors go into programming an event as immense as the Berlinale. Yet, I believe it was intended that the festival's content comment on the challenging nature of current world politics. The Berlinale is known for such tendencies.
In addition to the International Jury (this year presided over by British actress Charlotte Rampling), the festival hosts nine official Independent Juries (independent because their membership is not determined by festival organizers). I was one of six members of the independent Ecumenical Jury, representing international film organizations of the Protestant and Catholic Churches --- INTERFILM and SIGNIS, respectively.
I, a Catholic and the sole American, joined jurors from Romania, Switzerland, Serbia and Germany. Our task was to collectively view in excess of 50 films and to award the Ecumenical Prize to three, one film in the main competition, as well as one in each of the festival's Panorama and Forum programs. Our choices were based on a number of criteria; paramount among them was a given film's portrayal of themes in keeping with the Gospels, with common spiritual values and with a respectful portrait of humanity.
As the festival progressed, the Ecumenical Jury culled three films from the field of contenders and focused on these for our prize in the main Competition. A brief synopsis of each:
In the Danish/Swedish production "A Soap," director Pernille Fischer Christensen tells the story of Charlotte and Veronica, each of whom is burdened with heavy emotional baggage. Charlotte is a woman, age 34, newly estranged from her boyfriend, desperately lonely and unable to start a meaningful relationship with another man. Veronica is man, a transsexual, age 32, who has applied for a sex change operation; he is a devoted viewer of a televised American soap opera, and he receives regular visits from his suspicious mother.
Each of the two main characters occupies a unique inertia of loneliness and longing. Their relationship is a demanding and often painful process of mutual cleansing, whereby the expectations that might otherwise govern the nature and course of their relationship are, one by one, washed away. In the film's final frame we see Charlotte and Veronica in sunlit profile, sharing a mutual gaze, signifying a purity of devotion that transcends the demands of gender identity, social relations and sexual attraction. We know that they are going to move forward with their lives, together, immeasurably strengthened by pure love.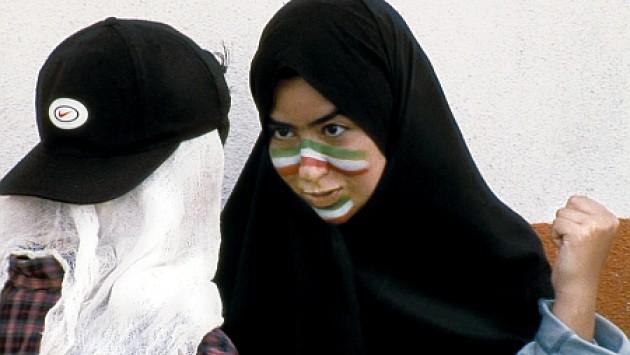 Still from "Offside"
In the Iranian film "Offside," excited sports fans take a bus to a hugely important game of football (in America we call it soccer). En route, it is realized that an odd-looking boy, face painted with the team colors, is actually a girl. Since attending public football games is forbidden to women, she is apprehended at a checkpoint and taken to a detention facility. There she finds numerous other women --- all disguised as men --- sharing her fate. Even worse, their detention takes place adjacent to the stadium where the football game is being played, outside their field of vision, but not out of earshot. They must endure each roar of the crowd, as well as the inane comments of a guard who lacks any appreciation for the game they collectively adore. Undeterred, the women employ any scheme they can devise in order to see the game after all.
The film's director, Jafar Panahi, often focuses on the ongoing dilemma in which modern Iranian women find themselves, due to a social system that undervalues them. Panahi treats this film's subject matter with a comedic flair that allows the poignant subtext of suffering and injustice to settle within our conscience. And, we are encouraged to contemplate the indomitable spirit dwelling within each human being.
The quietly monumental film "Grbavica" is a shared production from Austria, Bosnia-Herzogovina, Germany and Croatia. The film's director, Jasmila Zbanic, tells the story of a single mother, Esma, and her daughter, Sara, who live together in post-war Sarajevo. Though Sara is only 12 years old, she can sense a subtle distance that exists between her mother and herself. Esma takes a miserable job as a cocktail waitress in order to pay for a school trip that Sara wants to take; meanwhile, Sara becomes friends with a boy, Samir, who, like herself, has no father. Sara and Samir both believe their fathers died as war heroes.
However, when Sara's school trip is offered free to the children of certified war heroes, Sara learns she is not listed among those who will receive the free trip. No longer satisfied with misleading half-truths, Sara confronts her mother, demanding to know who her father really was. The painful truth is that Esma was raped in a prisoner-of-war camp, and Sara is the child that resulted from this brutal violation. Suddenly, Sara's world is a different place; and Esma's re-opening of her wound allows a painful, yet welcome, reconciliation to begin.
Our jury discussed these three films intensely. We struggled with our decision because each film uniquely engenders an appreciation of spiritual values while honestly embracing the challenge and mystery of the human condition. We even considered awarding "special mention" to both of our runners-up.
In the end, we awarded "Grbavica" the Ecumenical Jury Prize. During the Independent Jury awards ceremony (which reassuringly received considerable media attention) we explained our rationale for honoring "Grbavica" by noting the film's "unique, measured approach and balanced, compassionate storytelling without judgment or manipulation; its portrait of human vulnerability and the power of love to triumph over hatred and violence; and its gentle embrace of a universal theme of reconciliation."
Later that same evening, during a live broadcast from the Berlinale Palace Theater, the festival's International Jury presented their own awards in numerous categories. What most impressed my fellow jurors and myself were the International Jury's choices as the best films of the Competition. Their Silver Bear winners, essentially the runners-up, were "A Soap" and "Offside" --- the two films we had as runners-up for the Ecumenical Prize. Their Golden Bear for Best Film was awarded to "Grbavica" --- also our top choice.
Charlotte Rampling and her fellow International Jury members utilized criteria that were formally distinct from those of the Ecumenical Jury. However, it strikes me that the similarity of our respective decisions is more than just an interesting coincidence. It strikes me that while suffering and fear can dominate the collective conscience, a gift of faith can be the subject of universal appeal. And, simple stories that embrace hope and human dignity will transcend political and societal barriers to find their audience, and share their message, both inside and out of the darkened movie houses.
David Tlapek is a Los Angeles writer and filmmaker whose most recent documentary depicts the creation of the tapestries in the Cathedral of Our Lady of the Angels.
Copyright David Tlapek, 2006