World Cinema Exchange Award 2023
Prize goes to film by Apolline Traoré from Burkina Faso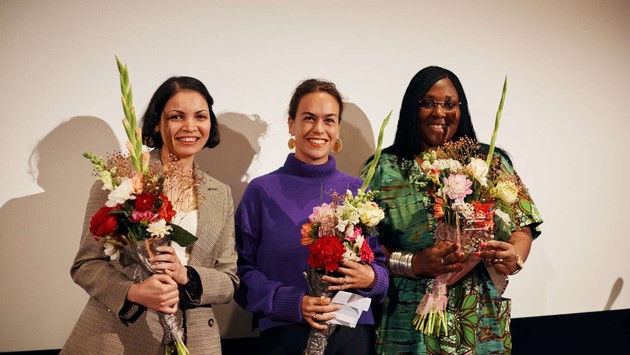 Jury members Lamia Fathy und Yaël van der Schelde with award winner Apolline Traoré (from left)

At the Film Festival World Cinema Amsterdam, dedicated to films from Latin America, the Caribbean, Africa and Asia, the World Cinema Exchange Award has been given to 'Sira', a poignant film, made by director Apolline Traoré (born 1976, Burkina Faso). The film tells the story of the young Fulani nomad Sira who is travelling through the desert with her family to marry her childhood sweetheart. Her father has agreed to the marriage, even though she is a Muslim and her groom to be a Christian. On their way through the desert, Sira and her family are attacked by Islamist terrorists. Sira is raped and left for dead. Refusing to give up, she manages to find shelter in a cave not far from the terrorist camp and starts planning her revenge.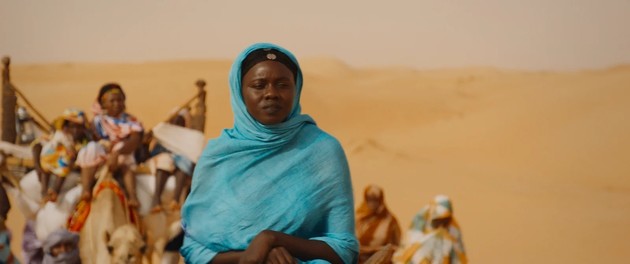 Sira

The film shows powerful resilience and tenacity, and has deservedly received international recognition, including at the Berlinale 2023 and the Fespaco Pan African Film Festival. And now this recognition is crowned with the World Cinema Exchange Award. The award is a co-production of the Cinema Rialto, World Cinema Amsterdam and the Dutch Film Talk foundation (Stichting Het Filmgesprek) a member organisation of SIGNIS and INTERFILM. The jury's motivation states: "This story combines stunning cinematography and a deeply touching story. It's a heroic story, a story of courage and hope when all hope seems to have faded away. We were impressed by the multi-layered characters and relationships that explore both inner as well as communal conflicts. It's inspiring and challenging the viewer at the same time."
The 2023 jury members:
Lamia Fathy, German/Egyptian film critic and film programmer. Lamia is alumnus of the Ain Shams University in Cairo. She is based in Berlin and was a member of the Fipresci juries in Berlin and Oberhausen.
Harm Koekoek, Dutch cinematographer and filmmaker, who recently graduated from the Dutch Academy for Visual Arts in Amsterdam.
Yaël van der Schelde, Dutch freelance documentary filmmaker and researcher. Her debute documentary The Field of our Dreams was broadcast in 2022 on Dutch national television.