Presentation of the WACC-SIGNIS Human Rights Award 2018 in Palermo
Award goes to "Eldorado" by Swiss director Markus Imhoof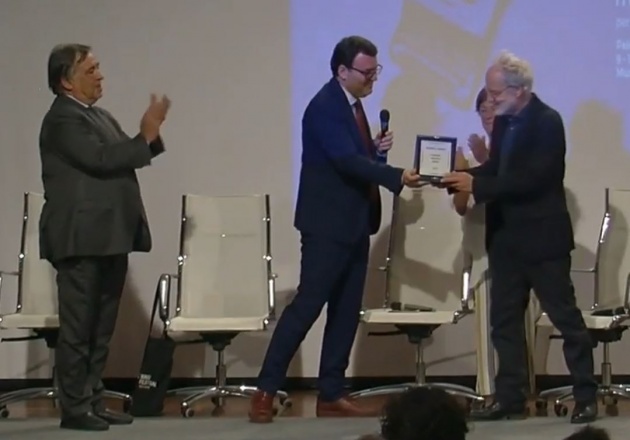 Presentation of the WACC-SIGNIS Human Rights Award in Palermo 2019, from left: Leoluca Orlando, Mayor of Palermo, Pastor Peter Ciaccio and Director Markus Imhoof, as well as (partly hidden) Sandra Brodbeck (© Csc Palermo)

During the Festival delle letterature migrante 2019 in Palermo, Swiss director Markus Imhoof was awarded the WACC-SIGNIS Human Rights Prize for his documentary film "Eldorado". Peter Ciaccio, pastor of the Waldensian community of Palermo and INTERFILM member, presented the award to the director in the presence of Mayor Leoluca Orlando and Sandra Brodbeck, Consul of Switzerland in Palermo.
"Eldorado" tells of the experiences of refugees who have reached Italy via the Mediterranean Sea, from their own point of view. Instead of finding a new home, they are marginalised in camps and often become victims of economic and sexual exploitation. Even if they manage to continue their journey, they live in constant uncertainty. The director links their fate with memories of a refugee child who came to Switzerland from Italy during World War II as part of a children's relief operation and was temporarily taken in by his family.
The WACC and SIGNIS Human Rights Award is given each year to a documentary film that addresses human rights issues and reflects the values and goals of WACC (World Association for Christian Communication) and SIGNIS (Catholic World Organisation for Communication).
Link: Press release by WACC
Link: Film Website