In memoriam Aleksandr Jakovlevič Askol'dov
*17. February, 1932, Moscow - †21. May, 2018, Göteborg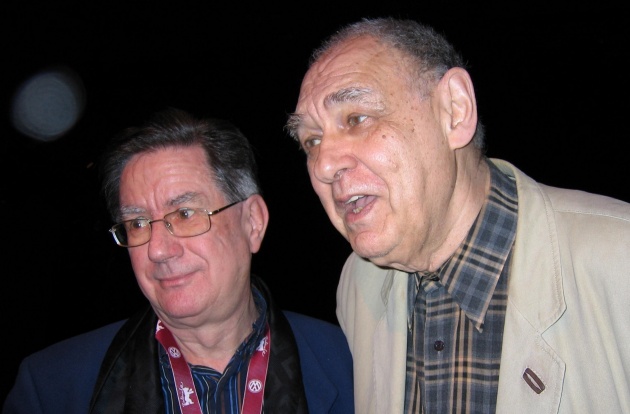 Aleksandr Askoldov (right) and Hans Hodel, jury coordinator of INTERFILM

At the Berlinale in 1988, a film celebrated its world premiere which was created more than twenty years earlier: "Komissar" (Commissar) by Aleksandr Askol'dov. It won a Silver Bear, the prizes of both church film organizations and the Prize of the Film Critics Association (Fipresci). Only a few months earlier, at the Moscow Film Festival in 1987, Askol'dov himself had to take the initiative to achieve a screening of his film, although under Glasnost and Perestroika the spell imposed on him had already been lifted. Thus, a work appeared on the world map of cinematography which was soon recognized as a classic of Soviet film - after 1967 it had narrowly escaped destruction. It should be the debut of his director. Instead, he was given a life-long job ban, was banished to the provinces, and had to keep afloat with odd jobs. His film was to be burned but was preserved.
"Commissar" is based on a story by Vasilij Grossman, Askol'dov himself wrote the screenplay; the music was composed by Alfred Schnittke. It is set at the beginning of the twenties of the last century in Russia, in a small town between the fronts of the Civil War, and tells of a female Red Army Commissar, hardened by revolution and war, who has become pregnant - a destiny that compels her to leave politics and fight to others. Instead, she experiences a humanity that is as concrete as it is utopian, yet always threatened by violence, in a Jewish family that hosts her. Legendary became a time entangling montage in which the commissar sees the Jews of Europe wandering towards the gas chambers - a horror vision of the future for her, the emblematic image of a historical barbarity for the viewer.
### drp | jtJB9ifaj59vK7JmARm_S4OZ00199664|i-120|Rolan Bykov as Jewish tinker Jefim in "Commissar"|###

Askol'dov was born in 1932 (there are various indications of place and date). His father, a commissar of the Red Army, was arrested and murdered by the secret police in 1937; his mother was imprisoned shortly thereafter. The frightened five-year-old took refuge with Jewish friends of the family. After the Second World War, he studied literature in Moscow, devoted himself to the works of Mikhail Bulgakov and Maksim Gor'kijs and worked as a theater and literary critic. Then he became, still in the time of the post-Stalinist "thaw", an official at the State Film Production and Censorship office Goskino. In 1964 he began studying as a film director, whose graduation film should be "Commissar". It became the film of his life, and its ban a biographical catastrophe.
The euphoria over the rediscovery of his film which astonishingly had remained intact, and the admiration it got as an exceptional work, also fueled the hope of an artistic new beginning. It faded over the years. In 1998, the novel "Return to Jerusalem" appeared, in truth a film script that takes up the latent and at the end of the Stalin period manifest Soviet anti-Semitism by telling the story of a Jewish actor and theater director, but also describing the delusion and opportunism of an artist, women's hero and public favorite. Solomon Michoels, who for many years was the prominent head of the state Jewish theater in Moscow, provided the model for this figure. A filming did not materialize.
Anyone who met Aleksandr Askol'dov, for example, at the annual ecumenical reception of the Berlinale, which he regularly visited with his wife Svetlana in unerring solidarity, did not find a bitter, but friendly and approachable, amiable and unbelievably modest man. He was particularly attached to the honorary president of INTERFILM, Hans Werner Dannowski (who passed away in 2016) who had conveyed to him the news of the decision for the Otto Dibelius Prize of the INTERFILM jury for "Commissar" in the evening before the award ceremony of the Berlinale in 1988. In an essay in the book "Kino und Film im Dialog" (Cinema and Film in Dialogue, edited by Martin Ammon and Eckart Gottwald, Göttingen 1996), Dannowski reports on the commotion and tears with which the honoree accepted the church award. INTERFILM appointed him honorary member in 2000. After a long illness Aleksandr Askol'dov died during the night of Pentecost Monday in Göteborg.

Askol′dov wurde 1932 geboren (es gibt zu Ort und Datum verschiedene Angaben). Sein Vater, ein Kommissar der Roten Armee, wurde 1937 von der Geheimpolizei verhaftet und ermordet; wenig später wurde auch seine Mutter eingesperrt. Der verängstigte Fünfjährige fand Zuflucht bei jüdischen Freunden der Familie. Nach dem Zweiten Weltkrieg studierte er Literatur in Moskau, beschäftigte sich mit den Werken Michail Bulgakows und Maksim Gor′kijs und arbeitete als Theater- und Literaturkritiker. Danach wurde er, noch in der Zeit des nachstalinistischen "Tauwetters", Funktionär bei der staatlichen Filmproduktions- und Zensurbehörde Goskino. 1964 begann er ein Studium als Filmregisseur, dessen Abschluss "Die Kommissarin" bilden sollte. Es wurde sein Lebensfilm, und sein Verbot zu einer lebensgeschichtlichen Katastrophe.
Die Euphorie über die Wiederbegegnung mit dem erstaunlicherweise unversehrt gebliebenen Film und die Bewunderung, die ihm als einem Ausnahmewerk entgegenschlug, nährte auch die Hoffnung auf einen künstlerischen Neuanfang. Sie schwand über die Jahre dahin. 1998 erschien als Roman "Heimkehr nach Jerusalem", in Wahrheit ein Filmscript, das an der Figur eines jüdischen Schauspielers und Theaterleiters den latenten und am Ende der Stalinzeit manifesten sowjetischen Antisemitismus aufgreift, aber auch Verblendung und Opportunismus eines Künstlers, Frauenhelden und Publikumslieblings beschreibt. Solomon Michoels, der lange Jahre prominente Leiter des staatlichen jüdischen Theaters in Moskau, lieferte das Vorbild für diese Figur. Eine Verfilmung kam nicht zustande.
Wer Aleksandr Askol′dov begegnete, zum Beispiel auf dem jährlichen Ökumenischen Empfang der Berlinale, den er mit seiner Frau Svetlana in unbeirrbarer Verbundenheit regelmäßig besuchte, fand nicht etwa einen verbitterten, sondern freundlich-zugewandten, liebenswürdigen und unfassbar bescheidenen Menschen. Besonders verbunden fühlte er sich mit dem 2016 verstorbenen Ehrenpräsidenten von INTERFILM, Hans Werner Dannowski, der ihm am Abend vor der Preisverleihung der Berlinale 1988 die Nachricht von der Auszeichnung der "Kommissarin" mit dem Otto-Dibelius-Preis der INTERFILM-Jury überbracht hatte. In einem Aufsatz des Bandes "Kino und Kirche im Dialog" (hg. v. Martin Ammon und Eckart Gottwald, Göttingen 1996) berichtet er von der Erschütterung und Bewegung, mit der der Geehrte die Auszeichnung aufnahm. INTERFILM ernannte ihn 2000 zum Ehrenmitglied. Nach längerer schwerer Krankheit starb Aleksandr Askol'dov in der Nacht zum Pfingstmontag in Göteborg.