FILM OF THE YEAR 2016: "Toni Erdmann"
Evangelical Film Jury in Germany honours Maren Ade's film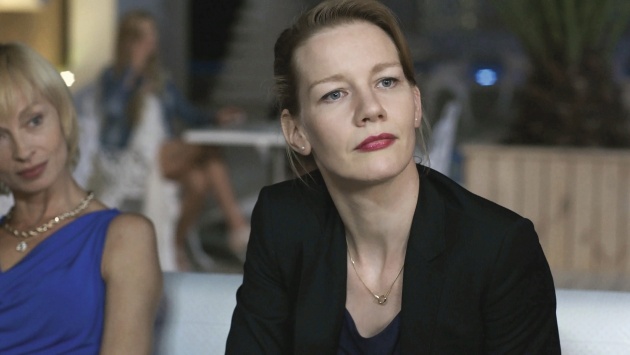 Sandra Hüller as Ines in Maren Ade's "Toni Erdmann" (Foto: © NFP)
For more than 60 years, the Protestant Film Jury in Germany has awarded the title FILM DES MONATS (Film of the Month) to a film which is actually shown in the cinemas. From the films the jury awarded in 2016, it selected the FILM OF THE YEAR: the tragicomedy "Toni Erdmann" by Maren Ade. The film tells of the relationship between Winfred, a 68-generation music teacher, and his daughter Ines, who is a business consultant. While she carries out an order in Bucharest, he appears as "Toni Erdmann" with a wig and fake teeth confusing her life which is aligned to success only.
The award ceremony took place on Saturday, 10 December, in the cinema of the German Film Museum in Frankfurt am Main. In a Laudautio the film critic Andreas Busche, editor of kinofenster.de and author of epd film, paid tribute to the award winner. The undotted award honours the distribution company of the film, NFP Marketing & Distribution.
In the justification of the Protestant Film Jury for its award, it says: "Family comedy, social satire, woman's drama: 'Toni Erdmann' has a little bit of everything - and yet it is completely different. For almost three hours, the film unfolds the psychogram of a society that has lost contact with reality. In Bucharest, Ines and her colleagues keep the neo-liberal life model going. The consequential effects the film makes almost physical perceptible. The gradual approach between the purposeful daughter and the "foolish" father, however, introduces something subversive into the story - it opens up the scope for feelings, care, neediness. A German film, which is so inventive and relaxed, connecting the individual with a broad social perspective, has not existed for a long time."
"Toni Erdmann" has already received numerous prizes, such as the award of the international film critics at its premiere in Cannes and, most recently, the LUX Film Award of the European Parliament.
Link: FILM DES MONATS July 2016 (German)