31th International Film Festival Fribourg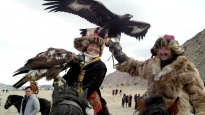 Opening film: "The Eagle Huntress"
""This should be the primary purpose of any self-respecting festival: to never indulge certainties. Quite the opposite: it should question and destabilise them and, if possible, take them on unexpected new journeys." Thus Thierry Jobin, artistic director of the Festival International de Films de Fribourg, characterizes the guiding idea of the event.As a key word for the various sections of the festival, he chose "the world upside down" - a world in which the current hierarchies, such as those between the north and the south of our earth, are "twisted" and interchanged.
In the "New Territory" section for example, the festival is hosting films and film artists from Nepal. The guests from the Himalaya will also evaluate the short films for the new "Auslandsvisum" prize, films created from the Swiss film academies. The "Genrekino" section this year is devoted to ghost stories: a "focus on those cultures that speak without taboos about death and ghosts," says Thierry Jobin. The section "Decrypted" is about the "fundamental turn", which was brought about by the replacement of the analogue film by digitalisation. The Ecumenical Jury chooses its prize winner from the international competition for long films from Asia, Latin America, Africa and Eastern Europe, which comprises around twelve productions. The festival opens with the documentary "The Eagle Huntress" by Otto Bell about the first female eagle-hunter of Mongolia.